Time Saving Wash & Fold Services
Drop-Off Laundry Service
How our drop-off laundry service works: You bring your items to The Big Clean and we'll weigh them while dry, then separate your laundry into white, colored and dark loads. We wash the whites in hot water (with bleach if requested) and detergent to make your laundry as white as possible. The colored laundry is washed with a color safe detergent in warm water to preserve the original colors. The dark laundry is washed in cold water with a color safe detergent. Spots are pre-treated with a spotting agent. All laundry is dried according to the manufacturers labeling. Shirts are either folded or hung on hangers, while all other laundry is folded. All socks are paired. Comforters, blankets and bedspreads are washed and dried separately from all other laundry. Special requests are welcome. Wash & Fold services offered 7 days a week and is a same day service if received no later than 11am, 24 hour turn around for anything dropped off after 11am.
Preparation: Separate items that require gentle care, line drying or dry cleaning. Empty all pockets. Provide plastic hangers for shirts that need line drying. Wire hangers will be provided at no cost for dried shirts that need hanging. Please notify our attendant for special requests concerning preferences for detergent, bleach, fabric softener and water temperature.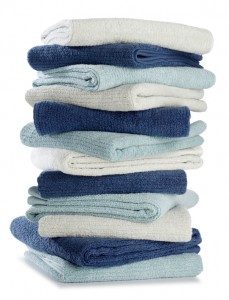 The Big Clean Drop Off Menu
Same Day Wash & Fold Service
$1.65* per pound, 10 pound minimum
Drop off by 11am, Pick up by 7pm
Drop off after 11am, can be picked up within 24 hours of drop off time.
*$1.65/lb is pricing for a basic wash, enhanced selections such as selective soaps or additives may increase price.
Call for pricing on larger items such as:
QUILTS, COMFORTERS OR SLEEPING BAGS, (Body or Pregnancy Pillows)
WASH, DRY & FOLD